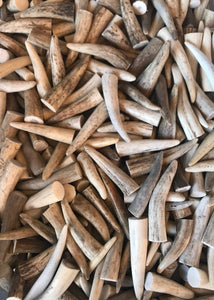 Sold in a pack of 10. 
These are Antler tips and brow tines.
All grades and sizes mixed together. A, B, & C grades and 1" - 3"
Antler color will vary from white chalky to dark brown color.
You will receive TEN tips in a variety of sizes and grades chosen at random. 
Picture shows variation of sizes. 
These are NOT to be used for dog chews! Choking hazard!